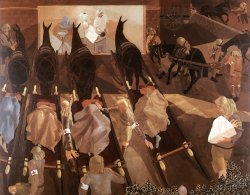 Spencer himself stressed that he wanted to evoke a harmonious atmosphere of peace, calm and religious salvation and to present the soldiers as "so many crucified Christs" (IMITATIO CHRISTI). According to Spencer, the idea of soldierly self-sacrifice is strengthened by the fact that the scene commemorated in this painting took place in a ruined church.
However, the painting does not bear out these self-interpretations. It does not show a scene of salvation. The altar has been replaced by a surgeon's table, anaesthetics are the only relief from suffering, amputation replaces the ritual sacrifice of bread and wine. The movement of mules and soldiers is cyclical rather than linear (see top right), which suggests absurdity and aimlessness (H.G. Wells). The wheel (top right) stresses the association of circularity, too. The ancient quadriga (victory, strength) has been perverted into the four mules which dominate the foreground of the picture. There are hardly any recognisable human faces; human bodies tend to be disproportionate (the connections of the wounded soldiers' limbs do not become clear under the covers; there are strange distortions).

The vegetation is thorny and threatening rather than soft and comforting. The plant in the right foreground seems unnatural, not regenerative and intrusive. Nature has been transformed into a destructive force - and human beings hardly matter in this world of animals (mules) and growing vegetation.